Medical Checkup
Cardiac Checkup

(Examination using cardiac ammonia PET scan to check myocardial ischemia)
This is a type of medical checkup using ammonia PET scan that less burdensome to the body.
Ammonia PET scan is an examination to check myocardial blood flow and its movement. It is effective to provide early detection of diseases such as angina, myocardial infarction, and cardiomyopathy, so that this examination makes it possible to offer early treatment. Please see details here.
Detectable diseases
・Angina
・Myocardial infarction
・Ischemic heart failure etc.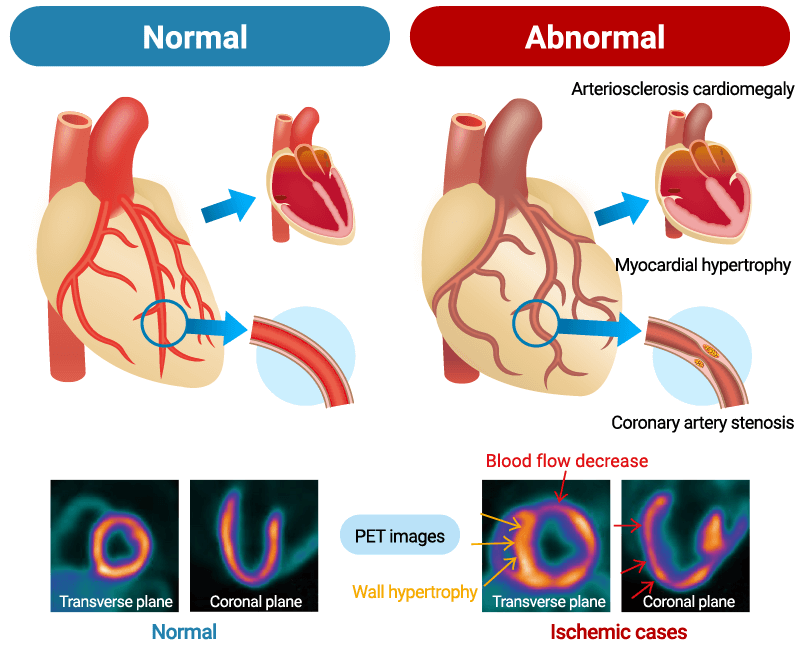 Features of cardiac checkup
・It is possible to provide early detection of heart diseases such as angina and myocardial infarction.
・We use radioactive medicine, but the amount of radiation is very small as normal CT scan.
・Scanning images at rest and under load are possible at once.
・Due to the numerical data of myocardial blood flow, we can grasp the cardiac condition precisely.
・We can provide accurate diagnosis that has outstanding quantitatively in comparison to conventional examination of nuclear medicine.
・It is minimally invasive compared with coronary angiography.
・It decreases unnecessary revascularization.
・The examination is accompanied by a specialized doctor.
| | Items | Contents |
| --- | --- | --- |
| 1 | Consultation | Cardiovascular consultation, interview, daily life guidance |
| 2 | Physical | Height, weight, blood pressure, BMI |
| 3 | Blood test | Lipid metabolism, Blood glucose |
| 4 | Heart failure marker | NT-proBNP |
| 5 | Electrocardiogram (ECG) | Regular 12 lead electrocardiogram (at rest) |
| 6 | Arteriosclerosis test | ABI (ankle brachial index)/PWV (pulse wave velocity) |
| 7 | Ultrasound test | Echocardiography |
| 8 | PET-CT scan | Ammonia PET scan (myocardial blood flow test) |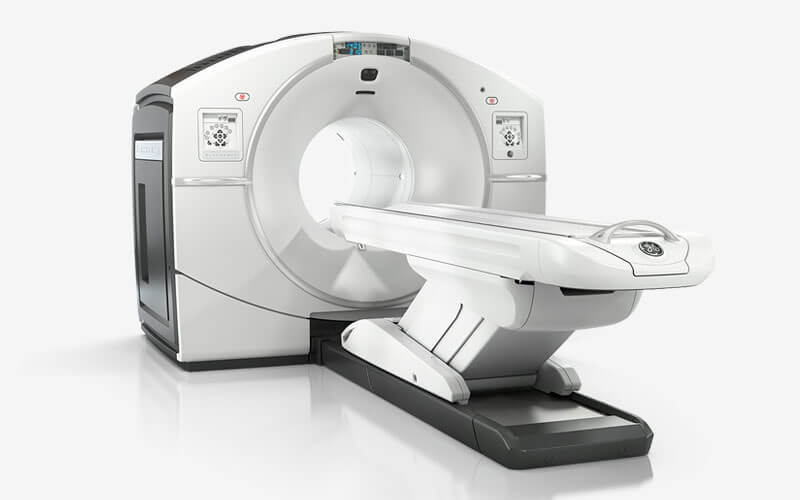 Notes for cardiac checkup
●If you have a medical history of asthma or diabetes, or if you have a pacemaker or defibrillator in your body, please let us know at reservation.
●The fee of cardiac checkup will be different between having PET-CT medical checkup and full medical checkup (Course A) at the same time.
Cardiac checkup procedure
1. Application
・Please check items of the examination, fee and notes.
・Basically one month in advance, please contact us your requested date and gender.
2. Coordination the date of cardiac checkup and payment
・Make a tentative reservation for examination.
・Make payment within a week after an invoice is issued.
3. Fill out and submit documents
・Fill out required parts on a medical questionnaire.
・Please confirm the contents and submit it to KIH.
4. Notes before examination
・Please follow the guidance of cardiac checkup and abstain from food, smoking, and drinking.
5. On the day of examination
6. Receive an examination report
・Receive an examination report (in Chinese or English) and CD-ROM in 4 weeks.
Payment
●Please make payment after an invoice for reservation fee is issued once the examination date confirmed.
●Payment for reservation fee can be made by overseas remittance, bank transfer, or WeChat Pay.
●Reservation fee will be applied for examination fee when you have cardiac checkup.
●If you pay by bank transfer, please make payment together for each booking group. (The remittance fee should be borne by the remitter.)
●If we cannot confirm your payment unless any special unavoidable reasons, your reservation will be cancelled.
●In case of cancellation within 30 days from the date of examination, we take reservation fee as a cancellation fee and we do not refund you.
●Please let us know immediately in case you want to change the schedule.
●You can choose full advance payment or payment on the day of examination for remaining fee.
●If you choose payment on the examination day for remaining fee, cash (Japanese Yen) or credit card is available at the hospital.
Notes for examination
●The medicine which is used for the examination may be affected by caffeine. For accurate examination, please do not take in any foods, drinks, or medicines including caffeine 12 hours before the examination.
●Please do not eat anything on the day of examination.

Please inquire of KIH the details.