Medical Checkup
Cardiac Catheterization Examination
What is cardiac catheterization examination?
Cardiac catheterization examination is an examination to insert a thin hallow tube called catheter from the wrist, elbow or groin to the coronary artery, and a contrast medium is injected into the catheter to visualize the coronary arteries. It is possible to grasp accurately whether there are narrowed parts or clogged parts in the coronary arteries, where they are in the blood vessels, and how narrow they are. The examination is to diagnose angina or myocardial infarction.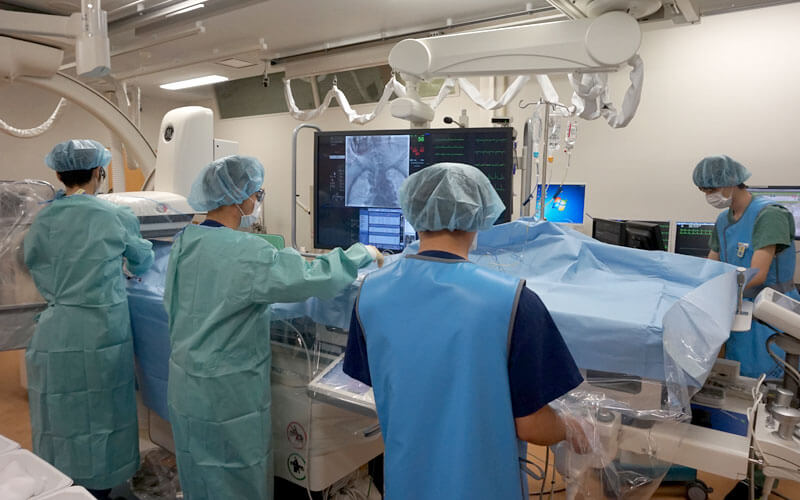 Ischemic heart disease and treatment
The most common heart disease is called ischemic heart disease (angina/myocardial infarction). Ischemic heart disease is a condition that the cardiac cannot receive enough blood flow.
There are some treatment methods for ischemic heart disease such as pharmacotherapy, coronary artery bypass graft, and a treatment method by dilating narrowed blood vessels using a balloon or stent to secure blood flow (PCI).
Nagoya Kyoritsu Hospital of Kaikoukai Healthcare Group has been focusing on treatment in this field.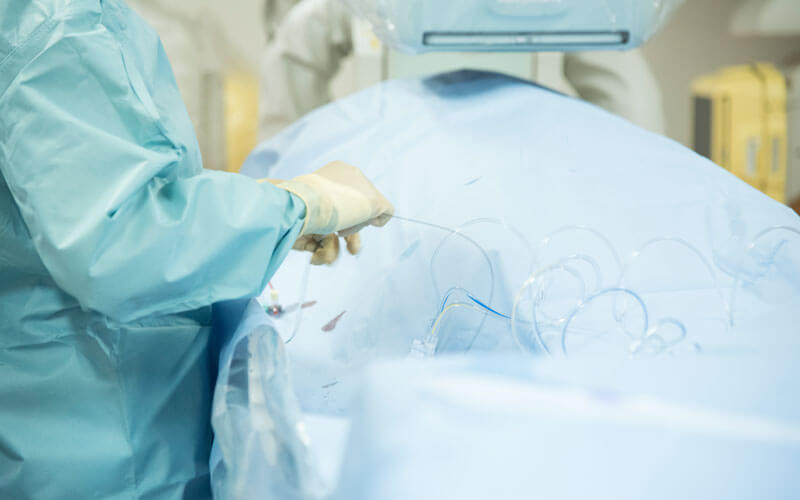 Balloon therapy
【Treatment procedure 】
Stent therapy
【Treatment procedure】
Records of Nagoya Kyoritsu Hospital
| | in 2016 | in 2017 | in 2018 |
| --- | --- | --- | --- |
| The number of diagnostic catheterizations | 736 | 600 | 492 |
| PCI (percutaneous coronary intervention) | 194 | 218 | 207 |
| EVT (endo vascular treatment) | 468 | 310 | 182 |
| EPS (electrophysiology study) | 51 | 12 | 8 |
| Pacemaker implantation | 14 | 15 | 17 |
| The number of cardiac CT scans | 248 | 246 | 185 |
| The number of echocardiography tests | 4231 | 4209 | 4026 |
| The number of ECG (electrocardiogram) | 3039 | 3101 | 3130 |
| The number of lower extremity and carotid ultrasonography | 4425 | 4161 | 3405 |